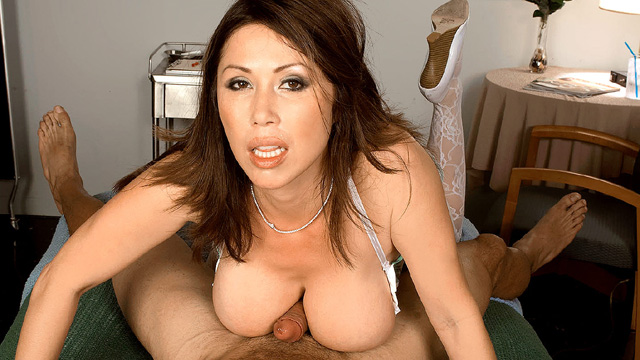 Nurses are so helpful. They know what it takes to cure an ailing patient: a pair of big tits and a tight, juicy pussy. At least that's the medicine nurse Kianna is prescribing. She really knows how to treat her patients with TLC. Once she's by your side your temperature won't be the only thing rising. We're willing to bet that your prick will get as hard as the thermometer she's sticking in your mouth. But you know what she really wants to stick in your mouth...her magnificent mams. And she wants you to stick your turgid penis in her mouth. But first she's going to turn your chubby into a full-blown erection with a tit-job that rivals the pleasure and tightness of any vagina. Are you still feeling sick? Don't worry, nurse Kianna will use her soft mouth to suck any bad feelings out through your cock and leave you feeling 100 percent. Now be kind and reward her with a hot beef injection. She deserves it for all her hard work.
More Big Tits »
What's the fastest way to get a dirty girl wet and horny? Give her a sponge and tell her to wash your car. Nothing excites a horny bitch more than a long hose and the idea that she might just get naked right out in the open. It's like shooting fish in a barrel. Just to prove a point, we gave Mocha-Titted sweetie, Soleil, a bucket full of suds and pointed her in the direction of this dirty car. Within minutes, she was scrubbing and sweating up a storm in the warm weather. When she said it was hot, we conveniently suggested that she hose down. And boy did she. She got soaking wet within seconds and kept on scrubbing that fine automobile until it sparkled. Then, without so much as a second thought, she whipped her heavy cans right out of her bikini top and let them soak up the sunshine. And since those sweet sucklers where out in the open already, she even put her jugs on the glass for that extra squeaky-freaky clean. Did the owner of the car mind that Soleil was rubbing her naughty bits all over his mode of transportation? Not at all! Because as soon as she was done wiping his car down to a fine shine, she used her tits, mouth and pussy to shine that cock up, too. You better believe that he waxed that ass!
More Big Tits »
The idea here is that you're a painter and Candy is your model. Your art, of course, is your obsession. You devote every waking minute to thinking about it, talking about it and doing it. Nothing can distract you. Or so you thought. The agency sent over a new figure model. She has big tits and blowjob lips. Her name is Candy. Candy Manson. And, yes, although your art is your life, when she gets on all fours and wiggles her naked ass in the air, you could swear that she's offering it to you. So, you face the facts: art or fucking. Chicks to draw? They're a dime a dozen. Babes like Candy to fuck? They don't come around too often. So you drop your paintbrush and get busy with the real work of the afternoon: Groping the model's tits and spreading her ass. Fucking her tight pussy in a variety of positions, some of them even artistic. But then comes the real artistic question: Should you use your cum to paint her face or her tits. Hey, you're a boob man. Easy question.
More Big Tits »
Gardening is hard work. There's lots of bending over, pulling, hoeing, sweating and grunting involved. You need to know that because you should encourage all the busty women in your lives to take up gardening immediately. Why? Because if they are anything like Rachel Love and use this gardening hose like she does, then every day spent gardening would end with a bang! Did we mention that Rachel is busty, blonde and gardens in panties, tight t-shirts and heels? Did we also mention that she gets soaking wet and then sucks cock, titty-fucks, and rides and then gets coated in cum? Well, she does. Who knew that yard work could turn out to be so fucking hot? We don't know about you, but we'd like to fire our lawn service guys and hire Rachel to take over their duties. Mostly because although she probably wouldn't do as great a job as our regular guys do, we'd like to see her naked on a riding mower in the middle of the day.
More Big Tits »