Ever heard of the term, "On The Job Training"? Well, if busty dick-lover, Kali West is your direct slutervisor, um, supervisor, then on the job training means she's fucking you in the office. You see, chicks like Kali who have big tits and are chained to a desk are horny as fuck, man. It's a fact. They walk around in their confining business suits and all they want to do is rip those things open and let their chesticles breathe a little. And don't forget how horny being in a position of power makes a chick. When she can boss around and train a guy, leaning over his desk, giving him a clear view of her cleavage canal, she gets off on that shit, we promise. The proof is in this video. Watch as Kali shows this guy all of his employee benefits by fucking him in the company's kitchen lounge. We think that this should be implemented in every office in the U.S. Think about it...who wouldn't want to pull a little XXX overtime?
Sometimes you can find really great things on the side of the road. Whether it be furniture that someone has dumped or a great classic car that some poor schlep is selling (probably because his wife is making him or killing him in a divorce), there are deals and steals along the highways and roads you travel. Check out this great find: Amber Bach running along in a tight and tiny top, jugs a'jiggling and bouncing. This is a deal, buddy. All you have to do is pull over, suddenly take up jogging, bump into her and get her to come up to your place nearby and suck your dick. That seems pretty simple, right? Now we are not saying that this kind of thing happens every day, but sometimes, a little effort goes a long way and you can actually end up with a hot, stacked fox like Amber on your dick. Go ahead, try it out. You can thank us later.
Top-Rated POV Videos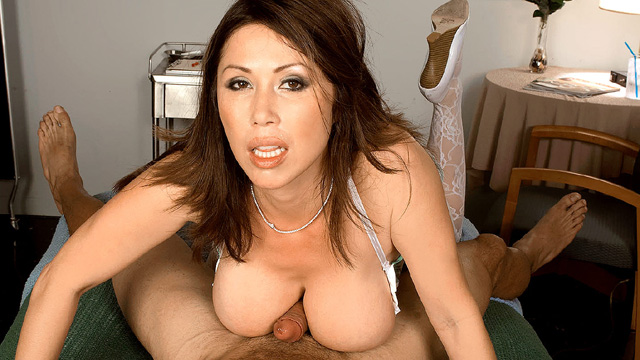 Nurses are so helpful. They know what it takes to cure an ailing patient: a pair of big tits and a tight, juicy pussy. At least that's the medicine nurse Kianna is prescribing. She really knows how to treat her patients with TLC. Once she's by your side your temperature won't be the only thing rising. We're willing to bet that your prick will get as hard as the thermometer she's sticking in your mouth. But you know what she really wants to stick in your mouth...her magnificent mams. And she wants you to stick your turgid penis in her mouth. But first she's going to turn your chubby into a full-blown erection with a tit-job that rivals the pleasure and tightness of any vagina. Are you still feeling sick? Don't worry, nurse Kianna will use her soft mouth to suck any bad feelings out through your cock and leave you feeling 100 percent. Now be kind and reward her with a hot beef injection. She deserves it for all her hard work.
What's the fastest way to get a dirty girl wet and horny? Give her a sponge and tell her to wash your car. Nothing excites a horny bitch more than a long hose and the idea that she might just get naked right out in the open. It's like shooting fish in a barrel. Just to prove a point, we gave Mocha-Titted sweetie, Soleil, a bucket full of suds and pointed her in the direction of this dirty car. Within minutes, she was scrubbing and sweating up a storm in the warm weather. When she said it was hot, we conveniently suggested that she hose down. And boy did she. She got soaking wet within seconds and kept on scrubbing that fine automobile until it sparkled. Then, without so much as a second thought, she whipped her heavy cans right out of her bikini top and let them soak up the sunshine. And since those sweet sucklers where out in the open already, she even put her jugs on the glass for that extra squeaky-freaky clean. Did the owner of the car mind that Soleil was rubbing her naughty bits all over his mode of transportation? Not at all! Because as soon as she was done wiping his car down to a fine shine, she used her tits, mouth and pussy to shine that cock up, too. You better believe that he waxed that ass!