Every guy wants a busty girlfriend who is a lady in public and a total fucking whore in the bedroom. You know what we're talking about, right guys? We all want that chick who sports a pretty dress while you're out and about, and then casually leans over and tells you that she is not wearing any panties. The kind of girl who is willing to fuck you and suck you off in the parking lot right before you go into a fancy restaurant. The kind of chick who waits for you to get home from work while wearing nothing but a whipped-cream bikini. The kind of chick who takes pole-dancing lessons at the gym, not to stay fit, but to give you what you deserve when you're doing the dirty. Busty brunette Whitney Stevens is that kind of gal. She knows that in order to keep her man satisfied, she has to ho it up in the bedroom, so she gives her dude a nasty lap dance to get him going and fuck her until she creams. And who wouldn't want that? We say all girls should rub and grind their girly-parts on cocks. It should be a requirement.
More Big Tits »
We can say a lot of things about what goes down in this scene. We can talk you to death about the pick-up, about why this lucky bastard ends up with Alexis Silver, about how and where they end up doing the nasty, but that would be redundant. We don't want to talk to you about the obvi-ass things. What we will talk about is the not-so-obvious things that we are more than 100 percent positive you'll enjoy knowing. For example, did you know that Alexis deep throats this guy's cock until the base of his dong is sharing personal space with her lips? Did you also know that Alexis prefers to cum from a good anal fucking rather than busting a nut via vaginal intercourse? Yup, she does. Now, don't you feel more informed and ready to see more? That's what we thought.
More Big Tits »
Top-Rated POV Videos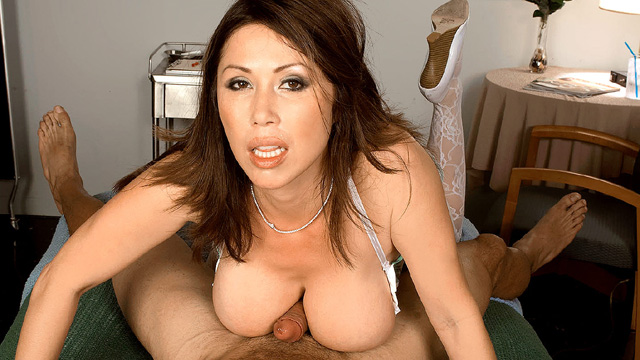 Nurses are so helpful. They know what it takes to cure an ailing patient: a pair of big tits and a tight, juicy pussy. At least that's the medicine nurse Kianna is prescribing. She really knows how to treat her patients with TLC. Once she's by your side your temperature won't be the only thing rising. We're willing to bet that your prick will get as hard as the thermometer she's sticking in your mouth. But you know what she really wants to stick in your mouth...her magnificent mams. And she wants you to stick your turgid penis in her mouth. But first she's going to turn your chubby into a full-blown erection with a tit-job that rivals the pleasure and tightness of any vagina. Are you still feeling sick? Don't worry, nurse Kianna will use her soft mouth to suck any bad feelings out through your cock and leave you feeling 100 percent. Now be kind and reward her with a hot beef injection. She deserves it for all her hard work.
More Big Tits »
What's the fastest way to get a dirty girl wet and horny? Give her a sponge and tell her to wash your car. Nothing excites a horny bitch more than a long hose and the idea that she might just get naked right out in the open. It's like shooting fish in a barrel. Just to prove a point, we gave Mocha-Titted sweetie, Soleil, a bucket full of suds and pointed her in the direction of this dirty car. Within minutes, she was scrubbing and sweating up a storm in the warm weather. When she said it was hot, we conveniently suggested that she hose down. And boy did she. She got soaking wet within seconds and kept on scrubbing that fine automobile until it sparkled. Then, without so much as a second thought, she whipped her heavy cans right out of her bikini top and let them soak up the sunshine. And since those sweet sucklers where out in the open already, she even put her jugs on the glass for that extra squeaky-freaky clean. Did the owner of the car mind that Soleil was rubbing her naughty bits all over his mode of transportation? Not at all! Because as soon as she was done wiping his car down to a fine shine, she used her tits, mouth and pussy to shine that cock up, too. You better believe that he waxed that ass!
More Big Tits »